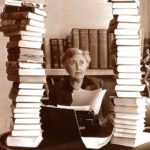 Agatha Christie is golden age, but is she cozy or bloody–hard boiled even? Okay, maybe not hard boiled, but according to a WSJ front page article, Christie staged "some of the world's grimmest homicides" on paper that were then made bloodless for the screen. New TV productions commissioned by her estate bring back bloody Agatha.
The estate has its  motive (in this crime, if you're a cozy fan). By 2013, it had adapted nearly every Miss Marple and Hercule Poirot detective novel. "We were kind of staring down the barrel of 'What do we do now?'"  James Prichard, Christie's great grandson and chairman of the estate, told WSJ.
This should set off some serious debate (hide the knitting needles and kittens) at Malice Domestic.