'…book paper catches fire, and burns'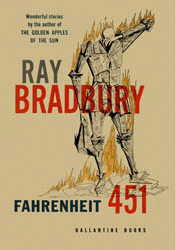 I failed to do my job that night. Didn't even try. I was supposed to be chasing scraps of gossip and bits of deal news that HBO executives might dole out to a neophyte reporter from a C-list trade publication. That was not my excuse for not trying. No, mine was three amazing hours spent talking to the late Ray Bradbury.
I was at something called the television critics tour, an odd little meeting where TV critics from the nation's newspapers assemble in one place to interview network executives and the stars of upcoming series. The acceleration in coverage of entertainment news, even back in July 1984, meant that beat reporters like me were along in the hopes of the scoops and tidbits that might leak (or be planted).
HBO hosted that warm night in Phoenix. The A-list critics and columnists sat with HBO chief Michael Fuchs and his court of executive vice presidents. This was at a time when Fuchs was being called "The Man Who Ate Hollywood" by Esquire magazine because of his company's massive spending on movie rights.
A junior publicist led me to a table far from that crowd and sat me next to Bradbury. He was supposed to tub-thump for his new HBO series "Ray Bradbury Theater." As you know, I was supposed to find a way to track down the scoops being given out several tables away.
Instead, Bradbury and I talked. And talked. We had several glasses of white wine. I fawned. And he was generous, so generous that I didn't feel like I was fawning, but chatting about something we both loved—story. I don't remember exact dialogue, but under that clear desert sky we covered Martians and things wicked this way coming and a house destroying itself after its family is itself obliterated by nuclear fire. We talked about his great short story "A Sound of Thunder," a tale that presages every other change-the-past, change-the-future time travel story. Step on a butterfly hunting dinosaurs and your own present is altered completely.
And, of course, we talked about "Fahrenheit 451." We had to, for the dystopian novel of firemen burning books was and is my favorite Bradbury story. Read it again. It holds up far better than the bad futures dreamed up by the so-called literary writers—George Orwell's "1984," Adolous Huxley's "Brave New World." Government doesn't take away books from people; people give up on books as they immerse themselves in interactive soap operas that play on the four walls of their living rooms. (In 2009, Amazon deleted "1984" from thousands of Kindles because of a rights dispute, so really, we're almost there.)
The setting that night was even perfect. The Arizona Biltmore was designed by a student of Frank Lloyd Wright and could easily have been a building on Bradbury's Mars. His Martians, like Wright, created structures that fit into their arid world by making use of landscape and light.
Bradbury was wonderful company. That too should have been no surprise to me. The Times quoted him in its obituary: "I have fun with ideas; I play with them. I'm not a serious person, and I don't like serious people. I don't see myself as a philosopher. That's awfully boring. My goal is to entertain myself and others."
Entertain me he did. That assignment—ignoring the real assignment—was the best of my varied but not-so-storied journalism career. Some interviews came close. But only close. And many events I reported on would be considered bigger, more important, even more interesting by most anyone else. They are welcome to them. A three-hour conversation in the desert with the master tops them all.
As postscript, I'll leave you with a link to the obituary the Economist did on Bradbury. It's great for the form they chose and the stories they touch on.