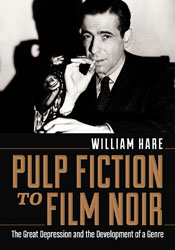 I first discovered McFarland & Co. Publishers many years ago when I bought the book Unsold Television Pilots 1955-1988 by Lee Goldberg. It was a delicious compendium of  TV shows pitched to the networks as scripts or actual pilot episodes that didn't get made into series. It was nerdy joy. I could look up all the shows Star Trek creator Gene Roddenbury proposed but didn't get on the air. Or find which favorite stars appeared in failed pilots. Or just laugh at the goofy ideas for TV shows Hollywood came up with. Let me tell you, there were some goofy ideas. (Not that goofy ideas don't actually get on the air.)
Because I bought the book, I started receiving the catalog from McFarland. It is heaven for a nerd like me, or as I like to think of myself, a pop culture vulture. Admittedly, some of the titles can be a bit academic—esoteric even. Take It Happens at Comic Com: Ethnographic Essays on Pop Culture Phenomenon or The Ages of the X-Men: Essays on the Children of the Atom in Changing Times. Not to mention Myazaki's Animism Abroad: The Reception of Japanese Religious Themes by American and German Audiences
Lest I scare you away, there are many books in the catalog that are accessible. McFarland's authors cover a wide range of topics in the universe we call genre entertainment, including TV, film, old radio, music and pulp fiction.
Here are a few titles this pop culture vulture would love to add to his groaning physical and virtual to-read bookshelves:
Zane Gray's Wild West: A Study of 31 Novels
Anti-Foreign Imagery in American Pulps and Comics
Approaching the Hunger Games Trilogy: A Literary and Cultural Analysis
Columbia Noir: A Complete Filmography, 1940-62
Women of Game of Thrones: Power, Conformity and Resistance
Pulp Fiction to Film Noir: The Great Depression and the Development of a Genre
Route 66: Images of America's Main Street
The Flash Gordon Serials: 1936-1940
Superheroes and Gods: A Comparative Study from Babylonia to Batman
I could go on. Probably would if I wasn't agraid of losing, you, the reader. If you don't see a genre you love, there's a good chance  McFarland has a book on it anyway.
In fact, even if you never by one of their books, get on the mailing list for their catalog. Readers and writers of what's termed genre fiction—sometimes derided, sometimes a boast—will love flipping through pages of titles written for the pop culture vulture in them.
Me, I'm about to order A History of the Doc Savage Adventures, about a pulp hero series from the 1930s I discovered in my teens during the 1970s and thought was my special literary secret for the longest time.
(Disclaimer: I have absolutely no connection financial, publishing or otherwise with McFarland Publishers or its authors. I just think the company is putting out cool little books on—to me—cool big topics.)
What pop culture are you a vulture for?