Cover reveal for the next Coleridge Taylor Mystery
Here they are, the title and cover of Coleridge Taylor Mystery book 4. Out Oct. 1.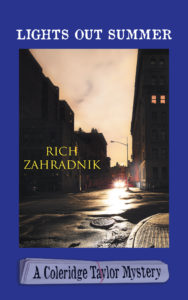 No spoilers…but LIGHTS OUT SUMMER is set during six months in 1977 when two major crime stories dominated the front pages of New York's papers. Son of Sam was halfway through his yearlong killing spree. And the 25-hour blackout in mid-July resulted in 1,000 businesses damaged or destroyed and more than 3,000 arrested.