Max Headroom and Ray Bradbury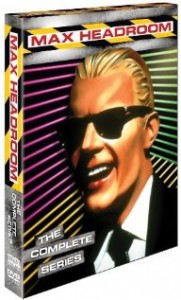 The tagline for the TV series "Max Headroom" was, famously, "20 minutes into the future…" This future was cyberpunk, gritty and a battleground dystopia where TV networks would do anything to win ratings. Made in 1987, it lasted just 14 episodes.
Any science fiction writer will tell you the most dangerous story to attempt is the one that depicts the near future. No one's going to call you on getting the year 3535 wrong. But they will when you predict next week. That's what makes "Max Headroom" so excellent. The show peered just around the corner in 1987, and still stands up 25 years later. My son and I just finished watching the DVD set. This is one of those SF shows—Firefly is another—that barely lasted a season but is still worth getting and watching.
Everything about "Max Headroom" is 20 minutes into the future. New subliminal ads called blipverts are so dangerous they make viewers blow up. Literally explode. Rakers play a deadly underground sport. Dreams are stolen to create ratings-winning TV shows, killing the dreamers in the process. Thugs kill to harvest organs. So-called "Blanks" use their status as the only people with out computer ID numbers to attack the central computer system. A news package broker sells exclusive access to terrorist attacks. Great ratings to follow. That's a sample, and all the episodes feature stories that could happen any day now.
"Max Headroom" keeps the medium of TV right in its dark satirical cross-hairs, an achievement for a network show. My favorite episode is the second to last (and the last to air in the U.S. after the show was cancelled). "Lessons" follows the efforts of the network censors to shut down pirated feeds of pay-TV education channels. Schooling is delivered by TV in this future, and if you can't pay, you don't get an education. Investigative reporter Edison Carter, the show's hero along with his computer doppelgänger Max Headroom, discovers the pirating is cover for another plot. Blanks are printing actual paper books for the poor kids to learn from. Edison and Max help them, of course.
Max Headroom, who is an AI version of the ultimate anchorman talking head, tells the audience: "Now, I'm no librarian, in fact, I don't know what star sign I am. But, as a famous person once said, 'You can fool some of the people some of the time, but you can't fool all of the people all of the time.' And as I – another more famous person – once said, 'If you don't teach them to read, you can fool them whenever you like.'"
I'm certain the episode is homage to the late master Ray Bradbury and his Fahrenheit 451. The show ends with the censors defeated and a little girl reading the opening to "A Tale of Two Cities." I love a cautionary tale about censors and censorship, particularly one that features an old-fashioned flatbed printing press.
Concludes Max, "Have you any idea how successful censorship is on TV? Don't know the answer? Hmm. Successful, isn't it?"
Here in our present, last week was Banned Books Week, the effort by libraries, teachers and writers to call attention to attempts at censoring what we read. It's still happening now, and will be 20 minutes into the future.