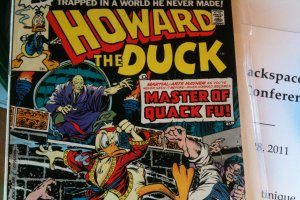 With a manuscript done and in the midst of deciding what to write next, I determined to spend the summer rereading all the best books on writing I'd ever read, and reading the ones I hadn't. Summers being summer—or maybe me being me—I got through one and a half by the time school started. No matter. It was a worthy exercise  just for picking up again John Gardner's The Art of Fiction: Notes on Craft for Young Writers. In chapter 3, I found a passage that reminded me why this became the writing book for me (really it and Anne Lamott's Bird by Bird). Gardner deals with interest and appeal in stories, and in particular, the snobbery that favors the serious over the entertaining:
The result of such prejudice or ignorance is that literature courses regularly feature writers less appealing—at least on the immediate, sensual level, but sometimes on deeper levels as well—than Isaac Asimov, Samuel R. Delaney, Walter M. Miller, Jr., Roger Zelazny, or the Strugatsky brothers, science-fiction writers; or even thriller writers like John le Carre and Frederick Forsyth; the creators of the early Spider-Man comics or Howard the Duck. In theory, it may be proper that teachers ignore thrillers, science fiction, and comic books. No one wants Coleridge pushed from the curriculum by a duck "trapped in a world he never made!" But when we begin to list the contemporary "serious" writers who fill highschool and literature courses, Howard the Duck can look not all that bad.
He does caution readers will be disappointed by the boring sameness of fiction that is merely commercial and shoddy imitation. But in allowing Zelazny and Howard the Duck—I read the original limited comic book series, still own 10 of them—into the conversation, he allowed me to think I could practice the art of fiction (though a "young" writer I was not then and am not now).