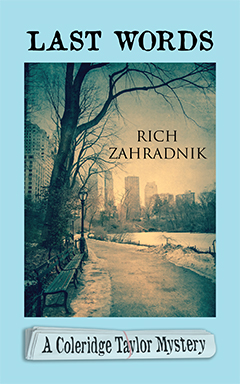 Here's the cover for my crime novel LAST WORDS, which Camel Press will publish Oct. 1. It was great fun seeing the different design options for the cover last week and having my say. What do you think of it? All comments welcome below.
This is my first cover reveal. My first novel to be published, for that matter. I've got a lot of firsts going on. This week I was reviewing the edits to the manuscript from my publisher. That was also fun, believe it or not. I've traveled a long road to get to the point where someone else is editing my work for publication.
LAST WORDS is now available for pre-order at Amazon by clicking this link.
Here's the official blurb from Camel:
"In March of 1975, as New York City hurtles toward bankruptcy and the Bronx burns, newsman Coleridge Taylor roams police precincts and ERs. He is looking for the story that will deliver him from obits, his place of exile at the Messenger-Telegram. Ever since he was demoted from the police beat for inventing sources, the 34-year-old has been a lost soul.
A break comes at Bellevue, where Taylor views the body of a homeless teen picked up in the Meatpacking District. Taylor smells a rat: the dead boy looks too clean, and he's wearing a distinctive Army field jacket. A little digging reveals that the jacket belonged to a hobo named Mark Voichek and that the teen was a spoiled society kid up to no good, the son of a city official.
Taylor's efforts to protect Voichek put him on the hit list of three goons who are willing to kill any number of street people to cover tracks that just might lead to City Hall. Taylor has only one ally in the newsroom, young and lovely reporter Laura Wheeler. Time is not on his side. If he doesn't wrap this story up soon, he'll be back on the obits page—as a headline, not a byline."